Nazdar! The Game
Build your base, defend it agains the bloody Bolsheviks.
Microstrategy Platformer. A game set in the period of the Russian Revolution, when the Czechoslovak legionnaires fought against the communists and once controlled the entire Trans-Siberian Railway.
Changelog
Version v0.9 2023-01-14 DOWNLOAD
THIS IS A HUGE UPDATE (28 commits)
hospital -> medical kit -> medic
new sprites (buildings => railroad cars, people, player)
smaller save files
locomotive ("key" to the next level) with tiny "win" animation and supermessage
smoke particles for soldiers and towers
new splash screen
currently 4 levels, some kind of progression … every level slighlty different (new buildings, enemies)
mouse only in dev mode (unnecessary)
only one center upgrade a day
left and right borders (very simple)
camera shake!
vibrations! (android and gamepad)
removed some useless messages
village names and very basic (but moving) story
smooth song transitions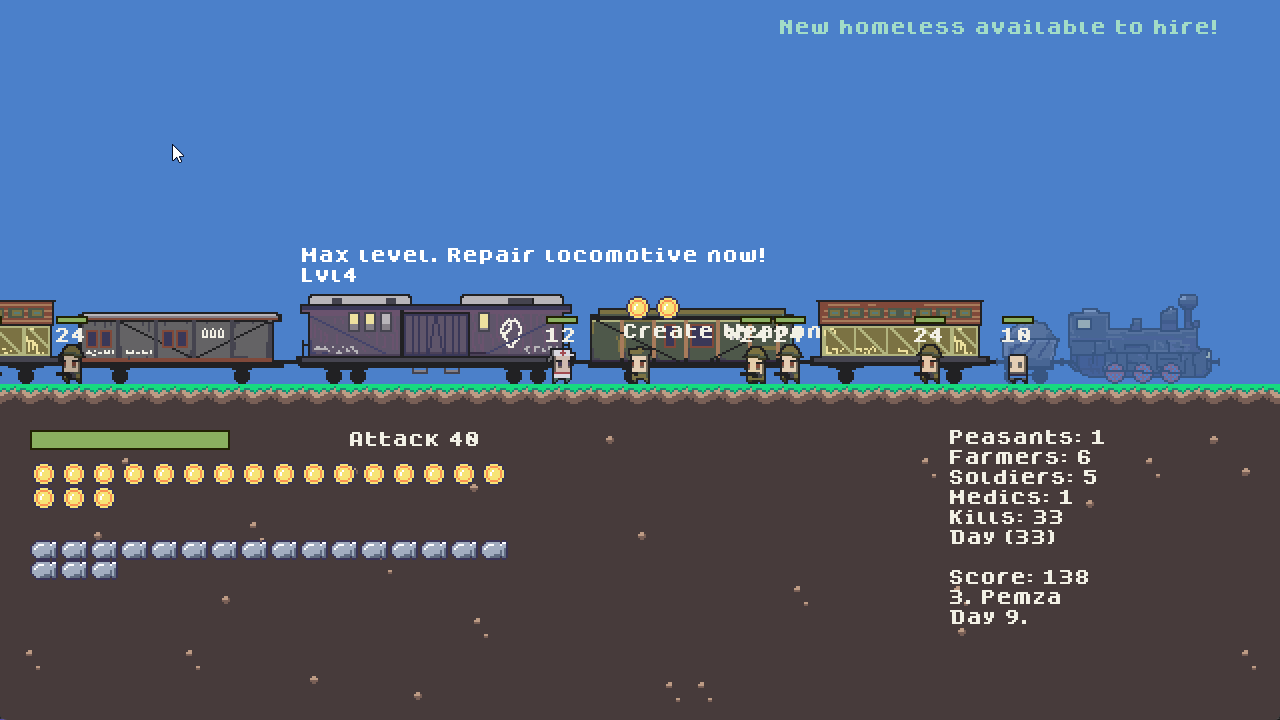 Version v0.8 2022-12-03
game won screen
nice sky color transition
color pallete CC-29 (not for all sprites yet)
after upgrading base to level 5, next village awaits! (only 2)
homelesses spawn around slums
wider sprites, vagoonlike
farmers gather around base at night
better game balance
version number in menu
Version v0.7 2022-11-07
no jump doublesounds
touch controls (Android) on the bottom
farmer sprites
farmers limit on farms
arsenal and cartridges - no unlimited ammo, you must buy it at arsenal
enemies gain attack power over time
attack power drawn above people
starting money and homelesses
current game stats on game over screen
better game balance
Version v0.6 2022-10-23
enemies drop money
base can be upgraded - it increases attact power of soliders, peasants and farmers
farms and farmers! generate money
deactivate input when window is not active
homeless limit, starting money for new game etc
Version v0.5 2022-09-30
fixed screen problems on Android (and maybe Xbox)
soldiers are shooting and have different colors
deleting save files
Version v0.4 2022-09-26
Soldiers are shooting! Multitouch on Android.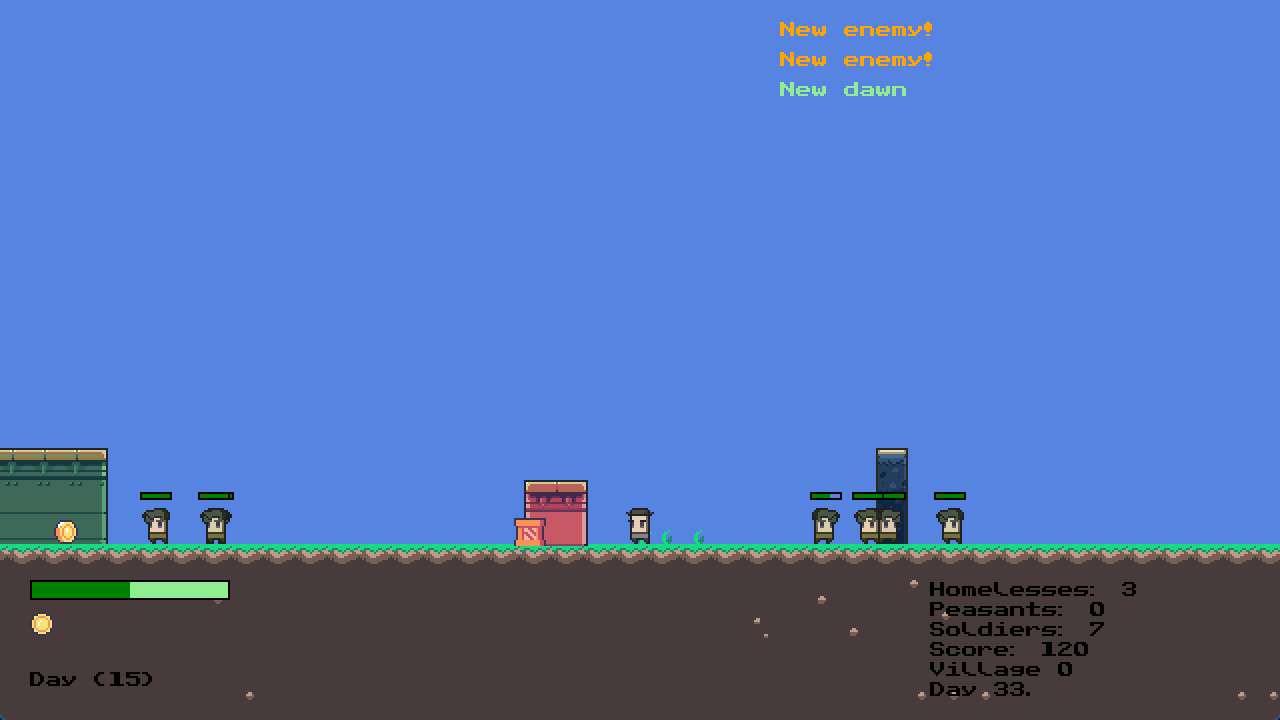 Version v0.3 2022-09-25
It somehow works on Android. Multitouch is not yet supported. It appears a bit off to the left side of the screen, I don't know why. I can't get it centered without breaking the aspect ratio.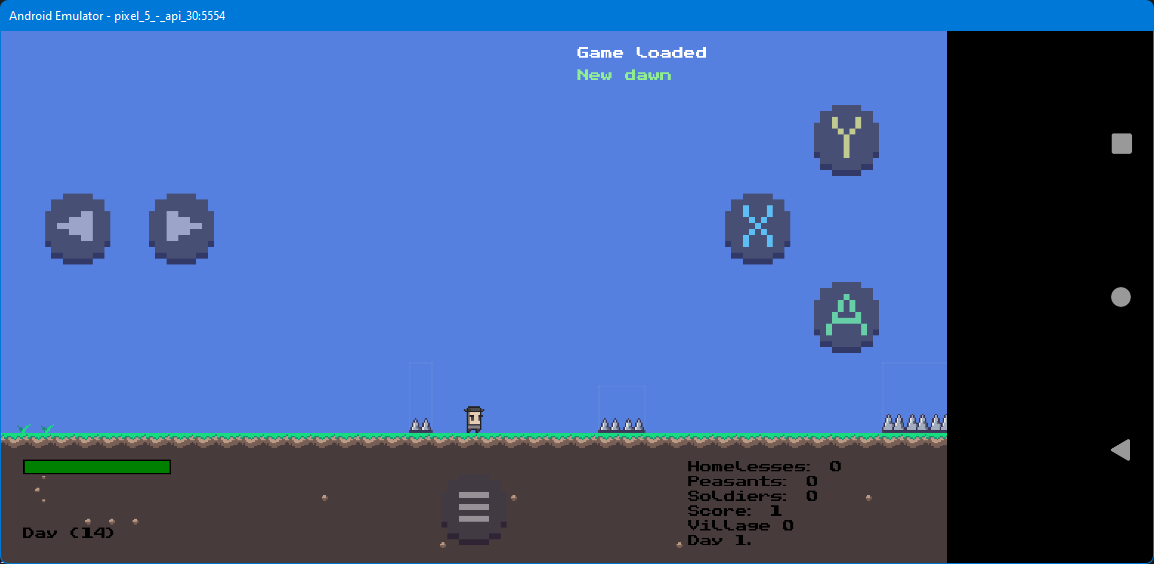 Version v0.2 2022-08-24
Version v0.1 2022-08-21